Turkey Cordon Bleu
Turkey Cordon Bleu is a delicious turkey breast breaded and stuffed with Gruyere cheese and smoked turkey. It is crunchy on the outside, but succulent and smooth on the inside. It is a really easy dish to prepare.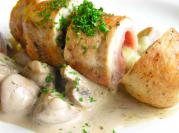 Ingredients:
2 Turkey (or chicken) breasts
8 slices of smoked turkey (or ham)
8 slices of Gruyere cheese (or mozzarella, cheddar, Swiss)
4 cups of flour
2 beaten eggs and bread crumbs
1 pack of fine herbs (cut into small pieces)
Salt and pepper
2 cups of white sauce (Bechamel)
1 lemon cut into rings
½ cup of lime juice
How to prepare:

1 – Cut the turkey breast in two, and beat it gently so that it can flatten evenly. Season it with salt, pepper and lime juice. Take each turkey breast fillet and put two slices of the smoked ham or turkey, two slices of cheese, one lemon ring and sprinkle some of the fine herbs. Fold the breasts in half like it was an envelope; secure the end of the breast with a wooden toothpick. Roll each beast into the flour, making sure you press firmly so they are sealed and uniformed.

2 – Take each turkey breast and roll it in the beaten egg and then in the bread crumbs. Pre-heat the oven to 390F and place the turkey breasts on a tray until they are golden on the outside. Serve with a Bechamel sauce and fresh lettuce. The sauce is made like this: In a frying pan, melt 2 spoons of butter, 1 spoon of flour, and 1 cup of white wine. After the wine has evaporated, add 1 cup of milk or more if you would like, add salt and pepper and cook for a couple of minutes. Add the sauce to the golden turkey breasts and enjoy!