Octopus Rice
This Portuguese dish valued in Algarve will be an absolute success anytime of the day. Try the original recipe!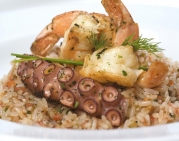 Ingredients:
2.5 pounds of clean octopus
2 units of garlic cloves
1 onions cut into small cubes
2 Bay leaves
4 tablespoons of extra-virgin olive oil
1 pound of rice
Cilantro cut into small pieces
2 tomatoes (no skins or seeds)
1 cup of dry white wine
salt and pepper
How to prepare:

1 – In a deep pan, place the octopus without adding water to cook for 50 minutes. The octopus will cook in its own water

2 - After cooked, cut it into small pieces and reserve

3 - In another pan, mix the olive oil, the onions, the cut garlic and bay leaves. Cook for a couple of minutes then add the cut tomatoes and let it cook

4 - Add the rice and let it fry for a little bit, then add the white wine and the water that the octopus was cooking before. If necessary, season the water with salt and black pepper and cook for about 15 minutes

5 - Add the octopus and the cilantro to the rice. Turn off the heat and leave it covered for 2 minutes before serving

Attention: If you want, decrease the quantity of water and add coconut milk. The quantity of coconut milk to be added is the quantity of water you would like to take out.