Vinaigrette
When a Brazilian barbecue or "feijoada" is done, the vinaigrette is indispensible. This is a simple and fast recipe that gives a special taste to these moments.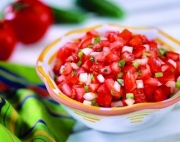 Ingredients:
2 onions
3 tomatoes
1 green pepper
1/2 cup of savory
1/2 cup of green olives
salt and black pepper
1 cup of olive oil
1/2 cup of vinegar
1/2 cup of water
How to prepare:

1 – Cut onions, tomatoes, the green pepper and the green olives into small cubes
2 - Shred the savory
3 - Mix the cut onions, the tomato, the savory and the green olives in a glass container
4 - Add salt, black pepper, the olive oil, vinegar and water and leave it marinating for 30 minutes
5 - Then serve and enjoy!